Read on…

thanks for being the
visitor to my home page…
GPS Navigation Systems
…and you can learn a little bit about me, and some of the places I have run.
(Click on small pictures with a border around them to see the rest of the picture, click your back button to return)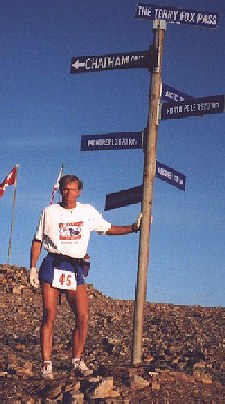 (Picture to the left was taken at Terry Fox Pass during my first 100K run at the Nanisivik Midnight Sun Marathon on July 4,1998. Pictured below in the background, during the same run is the Inuit Village of Arctic Bay located on the North Shore of Baffin Island in the Canadian Arctic 800km north of the Arctic Circle)
Let me introduce myself. My name is John Bozung. To pronounce my last name take the 'Boz' from Bozo, yea…like in 'Bozo the Clown'… hey don't laugh, when growing up in Pacific Palisades, CA, it made it easy to tell people how to find our name in the West LA phone book by just looking up the clowns name and ours was next. Oh…back to the pronunciation lesson… and the 'ung' from -young….'Boz'  'ung' … and if you still can't say it right, no problem, I'm used to it getting hammered.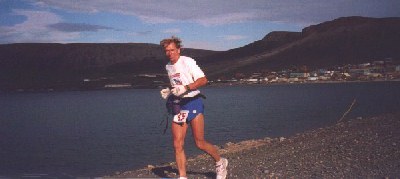 Well I had fun where I grew up, it was only a 10 minute walk to the beach.

I Graduated from Pacific Palisades High School where I ran track and cross country.
I live in Utah now, began running again in '85 and did a few short tri's in '86 and ran my first marathon in LA in '88. After that first marathon, I swore I would never do another. So much for promises, I completed my 250th in July 2005 at the Wild Wild West Marathon in California. I have as of Aug 6, 2017 I have a total of 421 marathons/ultras! Yep that's more than enough for one for every day of the year. I also have a unofficial current world record of 267 consecutive months, that's 22 years, and 3 months that I have done one every single month. Also another tidbit of info from March 11th of 2005 (my birthday) to March 11th of 2006 I ran 52 marathons in 52 weeks for my 52nd year. I am now currently working on finishing all 50 states for the 2nd time by doing an ultra this time around. I finished all 50 and DC back in 1999 the first time.
In 1997, I ran a marathon on all 7 Continents, becoming the 9th person in the world to complete this "feet" (Antarctica Feb. 5, 1995, King George Island)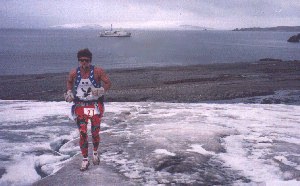 and at that time, one of only 2 people to have done all 7 in one calendar year. I was denied by 6 weeks from setting a world record by being the first to do them in one year by a Japanese friend, who caught wind of my attempt to be the first and who is a travel agent, need I say more. Anyway, it was worth every cent, for I saw and went to places I had only dreamed of seeing and others I had never imagined of going to. In '97, the Journey began with my second trip to Antarctica

, going through Buenos Aires,  Argentina and Ushuiua the southern most city in the world.
My second was on the "Dark" continent of Africa. We went through Cairo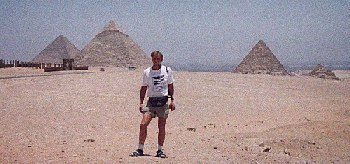 on our way to Tanzania and the town of Moshi,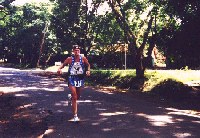 where we did the Mt. Kilimanjaro Marathon. While there I fulfilled a life long dream of going on Safari. We visited Ngorngoro Crater

, the Serengheti
one of several Masai Villages
and Lake Manyara Parks.

My return trip from Africa took me straight to my next run a week later in the Arctic

for my official run in Nanisivik, a Zinc mining town near Arctic Bay, that I was using for North America. In 1998 I returned for my third time to the far north. This picture

was taken with some of the members of the 50 States and DC Club that were there. This had become an annual pilgrimage for many of the club members. Unfortunately it will be our last. The Mine who helped to subsidize a very substantial amount of each the 130 or so runners who would go each year, after 20 years of putting on the best marathon in the world, they can no longer afford to do so because of the low price that they are now getting for zinc.
2 weeks later I was off again, this time to Caracas Venzuela, for the 3rd Maraton Libertador on July 20th,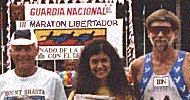 to pick up South America.
My next Continent again found me traveling south, but this time "down under" to Australia. On the way there had a chance to stop in Fiji and do some scuba diving, which I also did at the Great Barrier Reef in Australia. After 8 days of playing and seeing a lot of the East Coast I ended up at the Sunshine Coast of Noosa located north of Brisbane, and the Noosa Marathon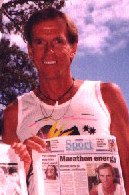 Unfortunately, this was to be a day that I would end up remembering more for the loss, shared with the rest of the world, of a Princess.
With 5 Continents behind me, I had Europe and Asia left to do. These I had planned to do on one trip. To make this endeavor as memorable as possible, for Europe, I chose where it all started centuries ago in Athens.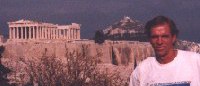 While in Europe I visited the Netherlands and did the Amsterdam Marathon the following week. In a period of 8 days I finished 2 marathon in 2 different Olympic stadiums both under 3:20. This all worked good because Amsterdam is where I had to leave from to go to India.
Spending the night in the Delhi airport was interesting – but not near as much as the next plane ride to Bagdogra and then the bus ride through several villages and up into the Himalayas. This trip could be the new thrill ride at Disneyland. Surviving this, we arrived at the village of Darjeeling. Sound familiar, this area is world famous for it's tea. Here we could see, Kanchajunga

the 5th highest mountain in the world. In the foreground is a picture of an old Steam Engine used on the highest railroad in the world. This is where the beginning of the Himalayan 100 Mile Stage Race began. The 3rd day of this 5 day stage race was the Mt. Everest Challenge Marathon from Sandukphu (11,856 ft.) to Rimbik (6,345 ft.). This is the highest annually held marathon in the world, at an average altitude of over 11,000 ft for the first 20+ miles. Here I had finished my quest of completing a marathon on all 7 continents in one year and at the same time won a race for only the 2nd time, the other was a 5K back home in Utah. I also had a chance to visit Agra and see the Taj Mahal.


In 2002 I had the unique opportunity to add to my list of incredible adventures when I got to be a Torch Bearer for the 2002 Winter Olympics, Thanks to a very dear and close friend who nominated me. The location was in Caldwell, Idaho and to add to the experience I was the first person to carry the torch in Idaho, so I got to light it off of the Cauldron on the back of the special Chevy Torch Truck. I was already teary eyed by the time I lit the torch from the excitement of the crowd milling to the local High School Band playing the Star Spangled Banner. A little boy was picked from the crowd to hold on to the torch as I lit it from the Cauldron. You can see his hand in the picture. I ran as slow as I could, but it was still over to quick.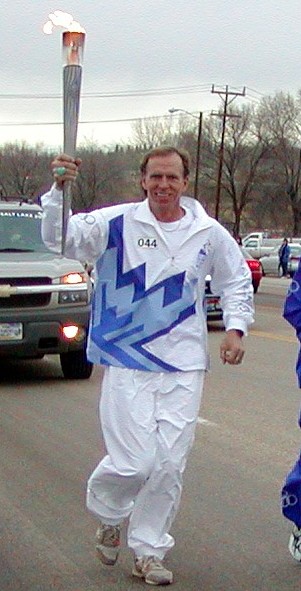 But the emotions experienced in those few short minutes was greater than all of the others runs I have ever done.
OK, I do, do other things besides run. I graduated with a degree in Archaeology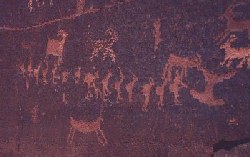 I go to Moab here in Utah every year for the Easter Jeep Safari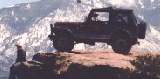 I also like to scuba dive and ski. Camping, hiking, play golf and rock collecting. Hear I am digging out some "geodes" in a area near Dugway, UT.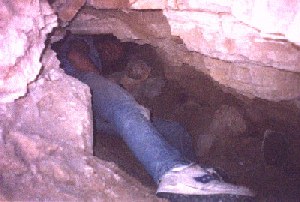 So speaking of digging, why don't you dig up some dirt on why you came to this site in the first place and go to the link below.
Click below for Squaw Peak 50 Mile Trail Run